We are thrilled to incorporate Bluebee Pals Educational Learning Tools into our Speech and Language Program at
College Place School District(College Place, WA). Bluebee Pals were provided to our school through the Bluebee Pal Project. College Place School is a diverse population of 1300 + students from K-12th grade. The District is comprised of one high school, one middle school, and one elementary school. CPPS offers a broad range of course offerings and programs that align with Washington State Learning Goals are offered to students at all grade levels.
Davis Elementary School offers a complete curriculum with a core focus on literacy, mathematics, and social sciences. Bilingual and English acquisition courses are offered. In the 2014-2015 school year, Davis added the Highly Capable Program for gifted students to Kindergartners – 5th grade students. John Sager Middle School includes a unique learning environment for students. The middle school also offers the Highly Capable Program, special education, and elective and exploratory classes.
College Place High School will support a four-year, comprehensive program with an emphasis on Entrepreneurship and Business. Currently, the High School is serving 9-12 graders. The core curriculum, a vocational program, honors, special education, and elective courses are offered. All students will complete a Personal Finance course as a Board directed requirement. College Place High School also supports Sea-Tech and Running Start programs for students. For more information regarding Washington State, Graduation Requirements
College Place School District-Camille Granitz-SLP
After I watched the Bluebee Pal Tutorial Facebook Live Stream Video presented by University of Central Florida, I was hopeful our school would be a recipient of Bluebee Pals through the Bluebee Pal Project donation program. We are happy to provide data and feedback from our usages and successes with Bluebee Pals. Our speech therapists and educators are anxious to implement Bluebee Pals assistive technology tools into our programs.Thanks for considering us for a donation of Bluebee Pals.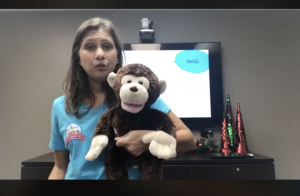 We just received Bluebee Pals them today! We are so excited to start incorporating them into our therapy.Thank you so much! We will update you with our success..

College Place School District
1755 S. College Ave
College Place, WA 99324