In August of 2019, the University of Central Flori at Nemours Children's Hospital in Orlando, Florida began their journey as a Bluebee Pals Project site. The PedsAcademy provides hospital-based school programming to children who are fighting for their health. This educational program brings educators into the hospital setting allowing the patients to focus on being students again. They participate in research-backed educational opportunities through the use of technology including the Bluebee Pals.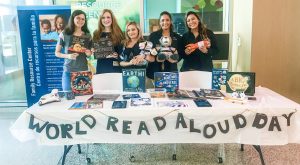 Rebeca Grysko, Associate Director of Teacher Education and Post-Doctoral Scholar at UCF's PedsAcademy, shared that the Bluebee Pals were a "great success" during read aloud activities with patients and families. 
Student teaching interns have been using the Bluebee Pals to teach vocabulary and increase reading skills. In addition, the Bluebee Pals have helped to engage, comfort, incentivize and entertain the students during lessons. These plush educational tech tools act as reading buddies for PedsAcademy students that need extra support such as those with learning disabilities or second-language learners.
Bluebee Pals have "made so many of the lessons 10x better!" shared a teaching intern. One very special participant was a 23-month-old patient who engaged with Bluebee Pals while reading stories, singing nursery rhymes and following simple directions.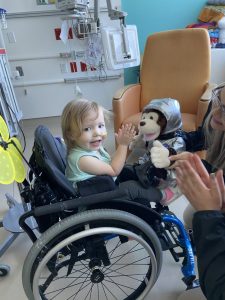 What a joy it is to see the positive impact of Bluebee Pals at the PedsAcademy! We are honored to be part of their amazing program that helps ensure academic access to their patients!
Punam Desormes, M.A., CCC-SLP, ATP
Faculty Clinical Instructor
School of Communication Sciences and Disorders
University of Central Florida