Bluebee TeeVee, Autism Information Station a seven webisode series where kids learn all about autism—in a friendly, clinically correct and respectful manner with humor and pop culture references thrown in for fun. An innovative series that helps children see past differences, learn acceptance and understanding, and discover that we're all pretty much the same at heart. https://www.bluebeepals.com/about-us/
The show's host, James Sullivan is also the script writer, filmmaker, and editor. Jonathan Murphy performs the character voices for the Bluebee Pal co-hosts. Both of these talented young men are on the autism spectrum.
Each 5 minute episode features James Sullivan, having a friendly chat with a Bluebee Pal−Sammy the bear, Leo the lion, Lily the lamb, Winston the dog, or Riley the zebra−to help children have a deeper understanding and connection to those with autism. We believe that Bluebee TeeVee is  a great way to captivate kids' attention and learn that−autism or not−they're not so different from one another.
Samples of BluebeeTeeVee Webisodes
What is autism anyway? In Episode 1 of Bluebee TeeVee, host James Sullivan and his Bluebee Pal, Leo, have a chat about what autism is and what it means to be someone on the autism spectrum. "It's a world of abilities…and possibilities," says Leo…and we couldn't agree more!What are people with autism like?
 In Episode 2 of Bluebee TeeVee, host James Sullivan tells his Bluebee Pal, Lily, "We're just like everyone else in so many ways but there are some interesting differences." Lily learns a whole new view and understanding of people with autism. She thinks "they're awesome!" Yep, she's got that rightLet's talk!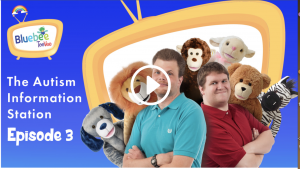 In Episode 3 of Bluebee TeeVee, host James Sullivan talks to his Bluebee Pal, Riley, about about the many ways autistic people communicate. You see some people with autism can't speak but they can still be heard and understood using picture boards or communication tools, like apps on tablets. The fancy word for this type of talking is augmentative and alternative communication or AAC for short. "Far out!" says Riley, and she's even more surprised when she finds out that she's a communication tool too!
These educational webisodes are available for free! They can be viewed on the Bluebee TeeVee Autism Information Station YouTube channel or you may download the webisodes for offline use.https://www.youtube.com/channel/UCyJj91DEZUDdcbXSveHRGPA
Please read more details about Bluebee TeeVee and the show makers, James Sullivan and Jonathan Murphy. We ask you to spread the word about Bluebee TeeVee Autism Information Station – let's empower kids on the autism spectrum and educate their peers! Click here for  images, and links you can share.http://geekclubbooks.com/wp-content/uploads/2015/09/Bluebee-TeeVee-Overview.pdf
Bluebee TeeVee Autism Information Station is autism education presented by: