Founder Laura Jiencke of Bluebee Pals visited the Ipswich Special School in Australia in late May. The school is the second Australian school to implement Bluebee Pal learning companion tools into their AAC Curriculum. The principal and faculty welcomed the Bluebee Pals with opens arms! Once the Bluebee Pals arrived from the USA, the teachers immediately started incorporating Bluebee Pals in every classroom.
"I am impressed by the passion and commitment demonstrated by principal Tracey Banks to her staff and students. Special education is very challenging for many educators when discovering the most effective assistive technology tools. Many special needs schools are often limited by expensive technology tools available on the market; Bluebee Pals bring creativity and innovation as an affordable tool that impacts a child's learning abilities when connected to a wide range of AAC, Educational, Reading, Language and Music Apps."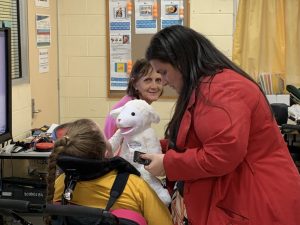 AAC is short for Augmentative and Alternative Communication. Communication systems, strategies and tools that replace or supplement natural speech are known as augmentative and alternative communication (AAC). These tools support a person who has difficulties communicating using speech……( Source-AssistiveWare) https://www.assistiveware.com/learn-aac/what-is-aac
The first "A" in AAC stands for Augmentative Communication. When you augment something, you add to it or supplement. Augmentative communication is when you supplement your speech with something (signs, symbols, a letter board, for example) to make your message clearer to your listener.

The second "A" in AAC stands for Alternative Communication.  This is when you are not able to speak, or your speech is not understandable even when you add something to it. In this case,  you need a different way to communicate.

Basically, AAC are the tools, systems and strategies that help a person communicate when they are not able to communicate effectively using speech.
The history of the Ipswich Special School can be traced back to 1923 when classes for students with special needs commenced as part of the Ipswich Central Boys' State School. The Ipswich Special School community strives for excellence in education by providing a caring and supportive environment in which all students may achieve their potential to function and participate effectively as valued members of society.
The Ipswich Special School provides educational programs for students with a broad range of abilities, learning characteristics and needs aged between three and eighteen. All students have had their educational adjustment needs profiled under Education Queensland guidelines. All students have been diagnosed with an intellectual disability and many have also been diagnosed with Autism, hearing impairment, visual impairment and/or physical impairment.