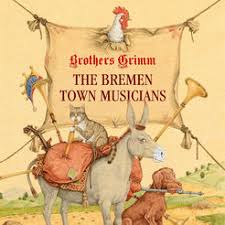 The Town Musicians of Bremenis based on the illustrated storybook by Lev Kaplan. Originally a Grimm's Fairy Tale, the author and illustrator pay tribute to the classic tale of four outcast and older animals seeking a new life as musicians. After traveling for a period, they grew weary and soon found an inn that had everything they needed for the night. But Alas, the inn was full of robbers and thieves. Although old, this quartet of a donkey, dog, cat, and rooster are crafty and smart – repeatedly outwitting robbers and thieves in acquiring a new home. I love the subtle message and moral to the story that despite displacement and loss, that we can triumph by teaming with others to open new doors. https://itunes.apple.com/us/app/town-musicians-of-bremen/id1336152826?mt=8
The  App is visually stunning and rich in detail harking back to an era where imagination was king. The surrealistic landscape of the illustrations makes this a perfect bedtime story. Each page is filled with compositions using musical instruments in the landscape giving rise to spontaneous games of identification of objects out of context. I loved the mouse dressed in a jester's finery on the page giving little ones a chance to scan and search to find him.
The story is just right regarding length for preschoolers and lends itself to a host of activities to pursue with Bluebee. Although it veers from the traditional story where the animals return home. It has a happy ending.
Here are a few ideas for activities and or lessons to pursue with Bluebee: 
Explore making music with either apps or musical instruments – Bluebee loves to sing!

Have a Parade with Bluebee leading other stuffies accompanied by a cacophony of animal sounds

Beginning teachings of respect for others and the value of teamwork

Believing in yourself and what makes us special – Bluebee can exclaim the strengths of your child either through the voice recording in the Bluebee app or a phone