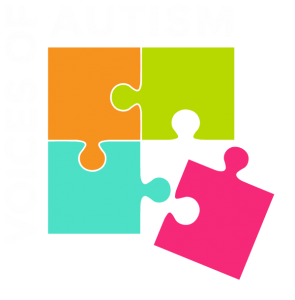 The faces of Autism: How Bluebee Pals and technology are making a difference with children with Autism.
Serving children with Autism is a dynamic task. Therapists and teachers are constantly working to engage students in learning activities in the face of attention,behavioral, and cognitive challenges. It does not make for a traditional setting. Students with Autism need their classroom environments and therapeutic experiences to be captivating but not overstimulating, structured but not too rigid, novel but not drastically changing….the list goes on and on.
It's a constant dance between taking their lead and challenging them to reach their highest potentials. How many times do we struggle with helping our student increase their social skills? How often do we search for something new to motivate them? How often do we wonder what it would be like to live in their world and know what they are thinking?
Bluebee Pals working with therapists at the Princeton House Charter School for Autism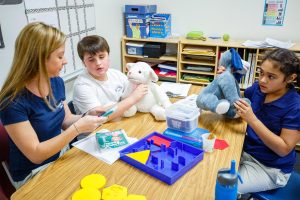 Sometimes it's the unexpected that help us chip away at these questions. Bluebee Pals are one of the unexpected tools that have helped in achieving these small victories. These loveable high-tech plush toys are a huge motivator! Holding Bluebee, talking to Bluebee and getting the chance to make Bluebee talk and sing is a unique and highly desired reward for students across the range of the Autism Spectrum. Nobody likes to work for free, so Bluebee has provided educators with a very valuable currency! Even better is when Bluebee helps with the educating. Connecting the plush toy to learning apps allows Bluebee to deliver the instruction. "Teacher Bluebee" definitely helps to gain student's attention during small and large group instruction.
We are all always looking for tools that will help us keep our student's attention and participation during instruction – Bluebee does just that! Many students with Autism struggle with the sensory input and demands of the classroom environment. Bluebee pals gives them an opportunity to take control. It is quite cool to see a student make Bluebee speak with a text-to-speech app or sing their favorite song. It's an experience that allows us to get a glimpse into their feelings, observations and often their humor! They love seeing Bluebee make their words come alive! Bluebee Pals are an inviting and comforting conversational partner. For some students it is much easier to make eye contact and conversational exchanges with a BluebeePal than with their peers/adults. Bluebee Pals can be the bridge between conversational partners with one person speaking through the toy while the other speaks to it. All in all, the BluebeePals are a tool that help students with Autism work on a vast array of skills by serving as a motivator, instructor, co-pilot, and furry friend.
Author: Punam Desormes, M.A., CCC-SLP: Speech-Language Therapist-Princeton House Charter School in Orlando, Florida.