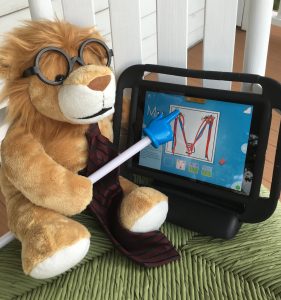 Choosing a tablet for your child can be a challenging experience. Do you go with iOS or an Android tablet? What about a case and a screen saver? Here are a few tips and pointers to consider when selecting a tablet that will grow with your child.
Apple's iPad, an Android tablet such as Samsung's, or Amazon's Kindle (which is a modified version of an Android platform, but with apps written specifically for the Kindle) are all viable choices. The first thing you need to ask yourself is what is the tablet going to be used for? Movies, Surfing the net, streaming services, or to enhance education or communication?  In our home, we have a variety of tablets – all used for specific purposes.
All tablets are great for pairing with apps, watching movies, checking out email, or connecting to Bluetooth devices such as Bluebee Pal.
Apple's iPad continues to dominate the market for educational apps. The learning curve for using an iPad is pretty straightforward and simple. The downside? – The sticker price of an iPad at times can be quite high, however buying a previous model will save you money, and most apps will run on them just fine. My current iPads used for work are at least 3 years old, and I have not yet been unable to run a new app that's out in Apple's App Store.
Android tablets are catching up, both in price and the availability of apps for education. Their controls can be a little tricky to navigate at times and are not consistent across all manufacturers. It can be frustrating to accidentally set off controls when you are in the middle of doing something and need to find your way back to the app you were in a few seconds ago. On a positive note, I have found some apps and movies to cost less than on iTunes.
The Kindle has a child's version Kindle Fire with apps and programs to try for a yearly subscription fee. They guarantee the tablet 100% for 2 years no matter what happens to it. And these are both great features to consider. The cost of the Kindle for streaming movies or reading books is hard to beat, and if you have an Amazon prime account the additional free services are fantastic.
If your child has difficulties with attending or is resistant to working on specific goals or objectives, I would recommend a device with a black frame and case. There is a reason why many TVs and even movie theaters have a black border for viewing, and that is to draw the eyes attention to the content. Although the white borders or other colors of frames look beautiful, when bored or tired, your eyes will travel to the border and not give attention to the content. The contrast of the black and the backlit screen is what the eyes will see – and hopefully retain the content of the apps.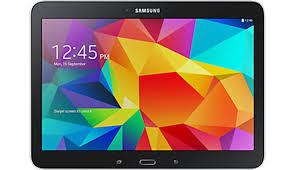 Stare at each of these examples and see where your eyes travel after a few seconds.
The same theory holds true for buying a case for your tablet. The Blues, Greens, and Reds are pretty and inviting, but if you want to attend to the content on the screen, use black. Again check out the two examples…What do you see?
       Other considerations in buying a case are:
Are the controls and charging ports easy to access?

Can you clean it?

Will it protect the Tablet?

Is it too heavy for the child to use independently?

Is it easy to carry?
Screen protectors are not a necessity and often interfere if you are using manipulatives or a stylus with the tablet. If your case is protective against falls, the screen most likely will be protected too. Most cases have an "overlapping bumper" that also serves to protect the screen. Film or plastic screen protectors tend to deteriorate over time and get foggy. If the screen gets dirty, a clean microfiber cloth (eyeglass lens cleaning cloth) is really all that is needed.
 I always recommend that whatever tablet you buy that you get as much memory as you can afford. It is amazing once you begin to collect apps, as surely there IS an app for everything, and chances are that you will be continually swapping out apps if storage is low.
These are basic tips for choosing a tablet. Once you get one, the fun begins!
Author:  Jo Booth OTR/L has been an Occupational Therapist for over 35 years, and currently practices at EasterSeals of SEPA, Montgomery County Division mainly focusing on Early Intervention. It is an APS (Approved Private School) and home outreach based setting.Writing reviews have been a tremendous opportunity and experience to share and learn with others.