MILWAUKEE — Summer is a time to take the academic pressure off kids so they can have fun — but that doesn't mean the learning has to stop. Speech Language Pathologist, Sherry Artemenko, joins Real Milwaukee Fox6now with some games and toys that can sharpen kids' reading skills all summer long. Sherry highlights games and toys she considers wonderful educational tools that motivate and engage children to learn. 
Play on Words speech and language expert Sherry Artemenko recognizes exceptional toys, games, and books that encourage language, spark fun and invite creative play.Sherry provides individual, in-home speech and language therapy to children ranging from one- to ten-years-old, building speech and language skills through play. Whether it's taking cars through a carwash with your preschooler or sailing a pirate ship across the table with your five-year-old, Sherry utilizes imagination and play to communicate and teach speech and language skills.
A vital component of the therapy process is the involvement of the child's parents, who are encouraged to be part of the session and are given weekly suggestions to help improve progress. After watching a session, parents often say, "Now I know how to do it!" or "I learned so much today." Daily parental reinforcement of target sounds, language structures, fluency and social language goals will help children to maximize their therapy experience and improve their speech and language progress overall.
Real Milwaukee Fox6now: Bluebee Pals are on Sherry's Spring PAL Award winners in the Pre-literacy/Reading category: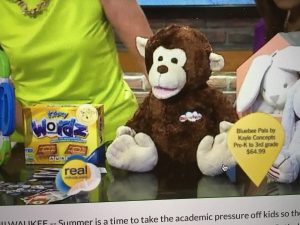 Bluebee Pals by Kayle Concepts (Pre-K-3rd grade) $64.99
• Where cuddle meets technology
• Connect Monkey to a Bluetooth enabled device–phone, tablet or laptop and they become a learning pal
• Bluebee Pal utilized in a 1st-grade classroom. They were the kid's favorite activity during 'Smart time' as the animals 'read' to the kids, lip-synching the words to stories or learning apps.
• Learning to read through many channels–auditory, visual, sensory, keep attention
http://fox6now.com/2017/06/19/entertaining-educational-toys-that-will-keep-your-kids-reading-skills-sharp/