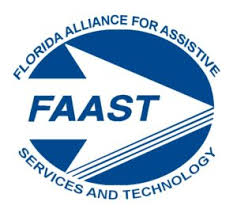 Kayle Concepts recently welcomed the Florida Alliance of Assistive Services and Technology (FAAST) to the Bluebee Pals Project. The regional centers received Bluebee Pals to use with clients during evaluation sessions, training activities and instructional events. FAAST is a state-funded program that provides device demonstrations and loans to help customers select assistive technology equipment that will help with activities of daily living and communication.
The Gulf Coast Regional Center is part of the Center for Independent Living (CIL) in Pensacola, Florida. LaVesta Feagin, an AT Specialist at CIL, works tirelessly to provide seniors with equipment to better access their environment and live active lives. LaVesta began working as a volunteer through a Career-Transition Program and then was hired as the AT Specialist.. She primarily works to provide the elderly with items from their "senior kit" including car canes for stability, car caddies, swivel seats, lifts, power chairs, and weighted eating utensils. However, she is faced with another crucial tasks of helping customers all over the Gulf Coast find Alternative Augmentative Communication (AAC) devices that will help them communicate effectively.
LaVesta has delved into this area with a thirst for knowledge that has guided her journey as the centers only AT Specialist. LaVesta was faced with limited experience working with children and AAC devices but was up for the challenge! She has used Bluebee Pals to engage children as well as the seniors at CIL with much success! She connects Bluebee to her trial AAC Devices including the Tobii Dynavox, the iPad with Proloquo2Go Communication App, Android devices, Kindles and even smart phones! "I was excited about how they can be used with so many devices because they are Bluetooth enabled" she stated.
LaVesta hosts a "Foster Grandparents" program which connects seniors with children. Both populations benefit from the shared experience of chatting, playing games and now interacting with Bluebee Pals! "The kids and elderly loved activating the Bluebee Pals with the iPad and AAC app (Proloquo2Go)! They could talk to the foster grandparents with the Bluebee Pals and even had the grandparents using the iPads!" -LaVesta Feagin
The Bluebee Pal's biggest fan at Gulf Coast FAAST is Hannah. LaVesta works with this 17-year-old student with Autism who without question always lets her know if she is interested in a new activity or tool right away. 
"She will let me know right away if she is not interested in something and she absolutely loves the Zebra Bluebee Pal that she has named June. I checked out the Bluebee Pal's recommended apps on the website and downloaded Toca Hair Salon. Hannah loves hearing the hair salon sounds through Bluebee June and is so engaged."
"Bluebee Pals are a good price-point for people because AAC is expensive. Not only is it an affordable price, but there are a variety of animals for kids. It offers people different choices." – LaVesta Feagin
LaVesta Feagin is an AT superstar, working hard to engaged seniors and children during FAAST activities as well as for AAC evaluations. We love that Bluebee Pals are helping her in this endeavor. We salute you LaVesta!…..https://www.bluebeepals.com/bluebee-pals-project-participants/
FAAST Gulf Coast Regional Demonstration Center
3600 N. Pace Blvd
Pensacola, FL 32505