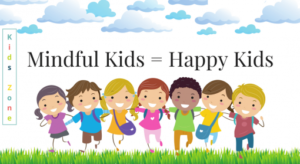 Mindfulness is an essential skill for kids to be successful learners. But what exactly is mindfulness and why is there such a fuss in teaching mindfulness to young children? Mindfulness is simply paying attention to the present moment and allowing all thoughts and feelings to occur without necessarily taking action. This ability to stop helps to reset and reorganize the body's systems and is tied in with the ability to self-regulate and self-calm. The present overstimulating and rushed pacing of today's world lends itself to disorganization. Disorganized kids usually have difficulty with attention, managing needed tools, and completing tasks.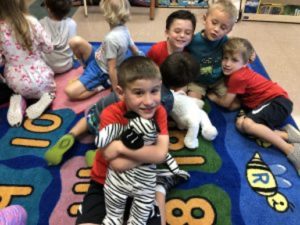 Calm kids can focus on the task at hand, see their options, and make better
choices. Kids don't always need to sit or be still to practice mindfulness. Yoga or other rhythmic movements (rocking or swinging) done in coordination with the breath can also be practiced. These children are holding Bluebee Pals practicing relaxation with Bluebee Pals.
Apps for Lessons in Mindfulness with Bluebee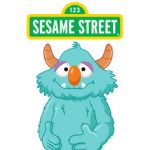 One of the best introductions to mindfulness training for young children is Breathe, Think, Do with Sesame Street. Although the app does not support Bluetooth technology and cannot be played through a Bluebee Pal, by having a child hold Bluebee while playing they will receive valuable body input in learning to calm. By hugging Bluebee children will not only benefit from emotional support but also receive nice deep pressure hugs that will help a child focus and calm when viewing the app. The app contains 5 vignettes that are stressful to young children and the stories are all told with vocabulary that is familiar to a young child. In the app, children help a little monster apply strategies to cope with everyday struggles. It's very reinforcing to help the little monster and it facilitates the desire to try the techniques within Stop, Breathe, Think.
Super Strech Yoga is a classic app for teaching mindfulness of body. Using storytelling and video, kids learn to imitate motor acts that coordinate with the breath to quiet and focus. In the Adventures of Super Stretch, the emphasis is on trying and being in the present moment and not on perfection. This is a subtle but wonderful message for kids to begin to understand. The app contains 12 poses that are modeled through both animation and viewing real kids doing the poses. The app is free and there are tangible additions such as flashcards and books that can be purchased through the website: www.adventuresofsuperstretch.com. Try having your child teach Bluebee the Poses for some extra fun.
For a more traditional app for meditation, check out Mindfulness for Children. It contains 5 guided meditations and 4 meditations that serve as stories in helping kids to relax in order to go to sleep. Most of the meditations include a body scanning component that serves as a ground or central point of focus. This helps kids stay centered so as to increase awareness of both body and mind. In addition, With this app, Bluebee can act as a facilitator for mindfulness and the screen can be put aside. With Bluebee whispering in your child's ear, what better way to let go of the day's struggles and challenges.
The Calm App is a subscription based service that has excellent resources for adults and children. There is both music and sleep stories that help tuck little ones in for a nap or at bedtime. Bluebee can lead the way for finding a state of calm for kids and parents.Calm radio is a free standing extension of the calm app with its own subscription service. https://apps.apple.com/us/app/calm/id571800810