After a play date with Hudson, where he showed her his wish list for the holidays, Lily thought it would be a great idea to make a list herself. She decided too, to ask mommy, daddy, and her sisters what was on their lists. "This will be the best holiday ever," she thought. She liked the idea of books, learning games, and toys that she could play with her sisters. The season is all about sharing and enjoying the warmth and love of your family, she thought. Here is Lily's List:
Sometimes, it is just hard to get started or stop a fun activity and go onto something else less fun. Lily has seen this with her younger sisters and had heard about an app where there were songs to help transition to a new activity. Everyday Grooves is that app. It was developed by the Fred Rogers Center at Saint Vincent College, so you know it has been thoroughly researched. Mommy can play it on her phone, and she and her Bluebee Pal can sing the songs to make transitions easier for her twin sisters. You see when Bluebee sings a song, everybody listens.This app works on both iPad and iPhones that use an older iOS (under 11. On the iPad, it is an enlarged screen from the iPhone – but you don't need to watch anything in particular – it is about the song being used as a call to action). It's perfect for Lily's big sister to use on her older iPhone with Lily's Bluebee.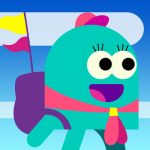 A sweet little pre-math app developed by the brother/sister team, Will and Cara Jessop, for Enabling Play, is The Amazing Adventures of Millie Moreorless. It was specifically designed for children with learning difficulties. The pacing and graphics are key to what makes this app successful. New research is showing that children who are able to recognize and discriminate the concept of "More" from a grouping of objects early on have greater success with math as they are able to better sequence, classify, and visually place objects that they relate when navigating and interacting.
Lily's a busy girl. She likes to discover and find out about new things. She also would like to apply what she's learned to new situations, and so it can be hard to settle down at nap or nighttime. She loves that her Daddy can record stories on the iPad so that her Bluebee Pal can read a story in Daddy's voice if he's away. It makes her feel calm. The one she loves the best is Goodnight, Goodnight Construction Site produced by OceanHouse Media. It's all about busy builder trucks that work hard building during the day, and need to settle down to rest. Lily loves hearing the names of all the trucks and what they do.
Lily wants to be an architect when she grows up. She loves to build and design things. She knows that careful measurements go a long way when building. She saw the app Measure Up by PBS Kids. It had all her favorites from her T.V. shows and videos on YouTube. There were Peg and Cat, Dino Train and Sid! In the app, kids can explore 3 different worlds and begin to compare and contrast length, width, height, weight, and capacity. These are foundational skills not only for math and science in later years but also in navigating one's world.
Lily's secret wish is for a Bluebee Pal for all her sisters. There is so much for them to do – sing songs together, talk to Grammie, play games, or simply read a book. Lily also likes to play pretend with her Bluebee – her sisters and their Bluebees could all join in for a tea party, build amazing buildings with blocks, and explore outside together. It would be double the fun if all of us and our Bluebees could play together. Now she thought she heard something about a monkey named Parker…