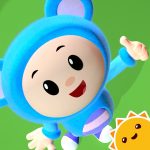 Mother Goose Club by StoryToys is a subscription-based all-inclusive app that includes familiar games, puzzles, and stories for beginning learners. The variety and appeal of the activities are amazing, and sure to be a hit! StoryToys will be continuing to update the app with content monthly. Using a mix of animation, music, and live-action videos with real kids provide many opportunities for kids to imitate and practice new and emerging skills as well as learn about the sequence of daily routines. In the Mother Goose Club, kids are firmly in the driver's seat and can play with others or safely learn to discover new content and old favorites on their own. Repetition is one of the hallmarks of learning, and singing and dancing to familiar nursery rhymes help kids not only broaden their vocabularies but also learn about social customs and mores. This is not a passive sit and view app…but one that encourages action and engagement.
Inside the App
On opening, there are literally hundreds of books, games, and videos to choose from. Using classic rhymes and characters from Mother Goose is genius as it brings a certain gentle encouragement that opens an invitation to
play. Each activity is short to match a toddler or preschooler's ability to attend – and therefore retain the material being taught. From Baa-Baa Black Sheep's favorites to topics such as animals and space, there is something of interest for everyone. I love the fact that the live action videos contain real kids from diverse ethnicities. The kids that I see in my practice are always intrigued when observing real kids, and it's a great motivator to participate – especially when kids look just like they do. The animations are bright and cheerful with professionally delivered voices for narration and songs. Kids can mark favorites, save, and download any of the material for off-line viewing. Parents can go into the settings at any time to monitor or clear out saved material for when the app becomes too heavy. Early learning games consisting of puzzles, sequencing, and matching are interspersed in the themes to present challenges for thinking skills.
In Summary
This is a welcome and safe app for kids and because it's created and curated by StoryToys. StoryToys is a trusted brand that creates apps that are educational and professionally delivered. Your child is at the center of their development. Its content will always be appropriate and timely for beginning learners, and access to inappropriate material is NOT a concern as with streaming video services. And, who is the best to deliver and share the material with than Bluebee? – your huggable loveable friend that shares the stories and activities that interest YOU!