The University of Central Florida's PedsAcademy at Nemours Children's Hospital is the world's first pediatric school program designed to provide children in hospitals with extraordinary, research-backed educational opportunities specific to their respective disease or condition. The team of UCF affiliated faculty is on site Monday through Friday from 10-5 to help your child succeed in school. Their faculty are experts in the fields of mathematics, science, reading, engineering education, the humanities, and special education. https://pedsacademy.org/about-variant-1/
Bluebee Pals Collaboration and PedsAcademy
Bluebee Pals were donated to the PedsAcademy to assist early childhood educators in literacy and reading. The hospital setting created a challenging situation considering the strict sanitary protocols ingrained in most hospital policies. Rebeca A. Grysko(Associate Director of Teacher Education) created the idea to dress the Bluebee Pals in costumes, specifically, astronauts themed outfits that would cover the Bluebee Pal head to toe. The customers were approved and Bluebee Pals were introduced on reading aloud day!
"Yesterday's event was a great success! We were able to introduce Bluebee to patients and families. We used Bluebee to read-aloud books to patients using a children's digital book application called Epic. I have attached a few photos as well as a video. We had a few parents inquire about Bluebee. I was able to speak about the many educational uses of Bluebee and direct them to the Bluebee Pals website for additional info. I also posted about the event on Twitter and tagged @BluebeePals in all posts." Rebeca A. Grysko, Associate Director of Education
Rebeca A. Grysko, Ph.D.
"In addition to yesterday's event, I have conducted professional development sessions for our student-teacher interns. I modeled how to connect Bluebee to a device via Bluetooth and demonstrated how Bluebee can be used with a variety of educational apps. The student teacher interns have been exploring different ways to utilize Bluebee in their instruction. They were all asked to complete the Bluebee Pals Project Questionnaire to provide feedback and information about their experiences. We are currently working on scanning all the questionnaires into one PDF document to send to you. We look forward to continuing to use Bluebee pals with patients here at PedsAcademy."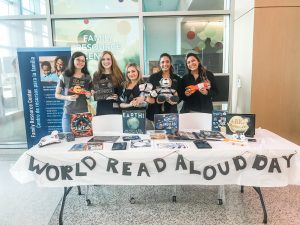 We greatly value the collaboration with Bluebee Pals and see a lot of potential for using them to foster reading motivation and engagement with the patients here at Nemours.
Rebeca A. Grysko, Ph.D.
Associate Director of Teacher Ed

ucation; Post-Doctoral Scholar
UCF's PedsAcademy at Nemours Children's Hospital