Bluebee Pals took a road trip this week to see Puddingstone Place, a comprehensive treatment center for children with special needs and their families. This amazing center offers Speech, ABA/Behavioral Services as well as Occupational Therapy that transcend typical school-based approaches. Treatment emphasis is on using evidenced-based clinical practices developed at Boston Children's Hospital. The Visual Immersion System (VIS™) created by the world renown expert on communication disorders, Dr. Howard Shane, is cutting-edge, thoroughly researched, and centers on the whole child. By using state of the art technology, it takes advantage of children's strong visual preferences in learning. Most of the children seen at the center have a diagnosis of Autism or ASD, but Puddingstone Place welcomes all children with needs and includes seeing children with:
Global developmental delays

Intellectual disabilities

Cerebral Palsy

Pragmatic Communication Disorders

Down Syndrome

…And children with other diagnosed and undiagnosed developmental, sensory, and communication delays.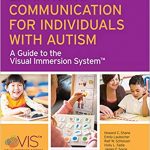 The Visual Immersion System (VIS™) helps kids become more effective communicators by capitalizing on children's strong visual skills. Visual supports can be customized using both low tech and high-tech options that makes treatment relevant to each child. The flexibility helps kids to make sense of what is being taught and be able to generalize material to facilitate function. Check out Dr. Shane's Book on the Visual Immersion Therapy for more information: Enhancing Communication for Individuals with Autism: A Guide to the Visual Immersion System.
On arriving we were greeted by the center's energetic and dedicated staff. The rooms were open and inviting. It felt comfortable and child friendly. Decorations were cheerful and uplifting without visual and auditory clutter that often
distracts or overwhelms children. The staff who are already familiar with Bluebee, fell in love with Bluebee with the newest Bluebees that have both head and mouth movements for more realistic interactions. Heads were spinning with the possibilities of what Bluebee may bring to enhancing the lives of children. Laura Jiencke, the founder of Bluebee Pals and the Bluebee Pals Project, described treatment ideas as well as pictures of the Bluebee in action. Did you know that Bluebee can be used with AAC devices, musical playlists to promote movement, and pragmatic language skills through the use of the phone feature?
Bluebee Pals wants to thank all the staff for their hospitality, and best wishes for success!