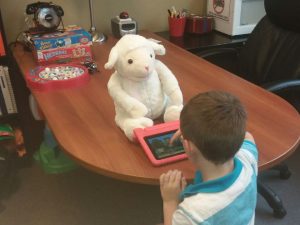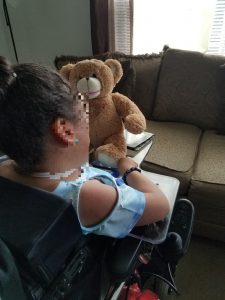 Bluebee Pals are great therapeutic tools for speech therapists and behavior therapists. They have already proven themselves to be invaluable in the classroom setting and are now making their way into therapy centers around the United States. Bluebee Pals are a great assistive technology device that enhances the overall experience of iPad or Android Tablet.Turns therapy activities on the iPad into a more engaging experience, giving kids additional sensory component as they have to hold and touch the animals.Children respond to these huggable furry tech animals adding another dimension to therapy. https://www.bluebeepals.com/therapists/
Beyond the Spectrum, a therapeutic and educational center for children with Autism in Sarasota, FL recently used Bluebee Pals helped motivate a child to use the potty for the first time! A speech-language pathologist with Apple Patch Therapy in Orlando, Florida also found success using the Sammy the Bear to encourage a client to participate in language and articulation therapy and following directions tasks when Bluebee gives the actual directions. Her client increased attention to task dramatically to earn time with his Bluebee Pal! Affiliates centers with AblePlay-Lekotek in Georgia, Illinois, North Dakota, New York, L.A. and North Dakota have been using Bluebee Pals to engage students in therapeutic play!
The Apps section of the Bluebee Pal website lists many of the therapeutic apps that these therapists are using to address therapy goals in a fun and innovative way. These include Text to Speech, Articulate It, Super Duper Following Directions, Food Frenzy, Super Duper Category App, Autism iHelp Apps, See Touch Learn,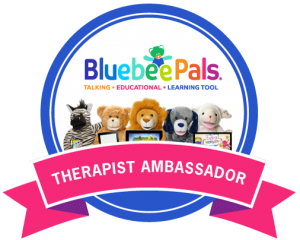 Speech Flip Book and many many more! Tablet and iPad technology are used almost daily in most therapeutic settings making it very easy for therapists to connect the Bluebee Pals and begin using them during sessions instantly!
So, get your Bluebee Pal and start taking your therapy to the next level!