Grab a Bluebee Pal and have fun exploring these FREE educational apps with your children. There are oodles and oodles of educational videos, shows, games, goodies and activities to explore. There is something for everyone! Take plenty of time to explore your favorite PBS shows, videos, and games in this HUGE collection of activities! These apps contain safe, educational videos, games, and TV.
PBS Kids Video- Watch all your favorite PBS Kids shows anytime, as well as live stream educational videos and shows to help your child learn and grow. There are new videos each week. Watch full episodes of Sesame Street, Daniel Tiger's Neighborhood, Super Why, Curious George, Odd Squad, and more! For ages 3-8.
PBS KIDS Video by PBS KIDS
https://apps.apple.com/us/app/pbs-kids-video/id435138734
PBS Kids Games- There are over 100 free school games for ages 2 through 8 for discovery, exploration and learning. The games focus on science, math, reading, and creativity. There are mazes, puzzles, coloring, dress-up, and more activities. Learn ABCs, shapes, reading, and math skills.
PBS KIDS Games by PBS KIDS
https://apps.apple.com/us/app/pbs-kids-games/id1050773989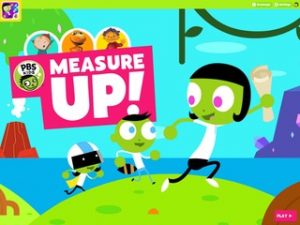 PBS Kids Measure Up! Children ages 2-5 learn early math concepts focused on length, width, capacity and weight while watching instructional videos and playing in Treetop City, Magma Peak, and Crystal Caves. There are 19 measuring games and 10 measurement videos. Kids collect rewards for activity completion. 
PBS KIDS Measure Up! by PBS KIDS
https://apps.apple.com/us/app/pbs-kids-measure-up/id1088888867
Play and Learn Science by PBS This is a suite of 15 educational kids games to develop experimentation and early science skills. Learn core scientific concepts while developing problem solving skills. Help the thirsty dog get some water, dress-up for the correct weather, find out which objects will float, and more. Great for preschool to kindergarten ages.  
Play and Learn Science by PBS KIDS
https://apps.apple.com/us/app/play-and-learn-science/id1300256105
The Cat in the Hat Builds That by PBS KIDS features 5 educational STEM games for preschool and kindergarten kids, focusing on key science concepts. Build bridges, explore friction with slides, sort objects, create musical instruments, mix colors, and more! 
https://apps.apple.com/us/app/the-cat-in-the-hat-builds-that/id1332796551