What's so important about summer reading?
100% of students experience summer learning loss if they don't engage in educational learning activities over the summer. According to the U.S. Department of Education, 25% of academic learning is lost by children over summer vacation.
Summer reading is critical for students to retain the knowledge and skills learned in the previous school year. Summer is an important time for students to keep reading to improve their language and vocabulary skills. Students who don't read are at risk of falling behind their classmates. Numerous studies indicate that students who don't read or read infrequently during their summer vacation see their reading abilities stagnate or decline.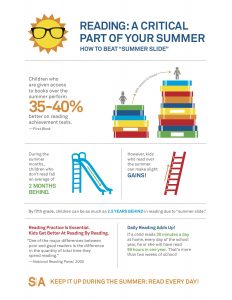 The "Summer Slide" is the phrase used to describe this slide backwards that many children make in reading skills over the summer months when school is not in session. Numerous studies show that kids who don't read during summer vacation actually slip in reading ability an average of 2 months by the time autumn rolls around. It takes teachers 4-6 weeks to reteach material that has been lost over the summer.
*Classmates who continue reading move further ahead.
6 Benefits of Summer Reading 
Improve Reading Skills.

Increase Desire to Read.

Improve Self-Esteem.

Neutralize Summer Learning Loss.

Improve Comprehension.

Improve Memory Skills.
You can combat summer slide by encouraging your child to devote 20 to 30 minutes each day to reading. Bluebee Pals are a great way to encourage summer reading! They make excellent reading buddies!https://www.bluebeepals.com/apps-bluebee-pals/
Suggested Apps Summer Reading:
Storyline Online by SAG-AFTRA Foundation is an award-winning children's literacy app that features celebrated actors reading children's books.
https://apps.apple.com/us/app/storyline-online/id1262706499
Little Stories Pro by Little Bee Speech features eighty-two 100 word stories that support reading fluency, comprehension, receptive and expressive language skills.
https://apps.apple.com/us/app/little-stories-pro/id1228283813
Reading Comprehension Camp by Smarty Ears is specifically designed to encourage language growth and comprehension. Contains 50 stories on multiple levels and comprehension quizzes.
https://apps.apple.com/us/app/reading-comprehension-camp/id592934497
Epic! – Kids' Books and Videos by Epic! Creations Inc is a leading digital library for kids with instant, unlimited access to 35,000 high-quality ebooks, audiobooks, learning videos and quizzes for children 12 and under. There is a monthly subscription plan for home and a free plan for educators.
https://apps.apple.com/us/app/epic-kids-books-and-videos/id719219382
HOMER Reading: Learn to Read by Homer is a personalized reading program for kids 2-8. This award-winning app has been proven to increase early reading scores by 74% with just 15 minutes a day. There is a monthly subscription plan for home, and a free plan for educators.
https://apps.apple.com/us/app/homer-reading-learn-to-read/id601437586