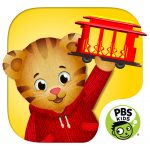 Daniel Tiger's Grr-ific Feelings by PBS Kids is awesome when paired with Bluebee Pals. The app is centered on emotional well-being and helps kids learn to identify feelings, a chance to practice and express emotions in a safe environment, and provides coping skills to use in everyday routines. By being able to identify an experienced emotion, kids are better equipped with employing a strategy to bring them back into balance. Dysregulation feels awful and when in the midst of feeling out of control, kids long to be able to reorganize and move forward. Bluebee with his huggable support helps to make that happen by not only providing the proprioception to calm (through hugging) but by also playing the audio prompts provided in the app.
Under the Hood
On opening, there are 4 centers to explore. The primary focus for identifying feelings is "Daniel's Sing-Along" of 18 videos: an overview and 17 specific feelings. The Good, Bad, Happy, and Sad Emotions are all included making the experience more human and something to share and talk about. Including Bluebee in the discussions off-screen allows children to practice with a non-judgmental friend. Many of the videos have strategies for dealing with an emotion's intensity. By placing them in short catchy songs, kids can sing these aloud when faced with a troublesome situation.
The Trolley game incorporates visual scanning, motor planning, and actively participate in tasks that help them deal with different emotions. One of the favorites for most kids was the use of a flashlight to uncover what was making a scary noise. Parents and teachers can also access favorite games under the parental gate for more practice or just to highlight an emotion of the day.
The feelings photo booth is a laugh out loud way to see the emotional expression in action. Kids can try to imitate Daniel's expression of an emotion and take their picture doing so. Initially, I had difficulty orienting the picture correctly, but that soon cleared up with a reboot.
Daniels Drawing Easel was a fabulously fun way for self-expression. There are plenty of art tools and stickers to create a drawing or depicting the beginning of a story. All backgrounds are from familiar preschool environments, making it easy to segway into a child's view of something that they experienced that day. In addition, kids can take photos to use as a background or decorate a selfie with stickers with all of your favorite friends from the show.
Playing with Bluebee makes self-expression easy to do. He/she is a friend that you can always tell what you are really feeling. After sending your picture off to Grandma, Mom, or Dad…use the phone feature to ask questions about it. Maybe even sing a song or two with your child! The hints and strategies are good for adults too! Available on iOS, Google Play, and the Amazon app store.