What Are Bluebee Pals?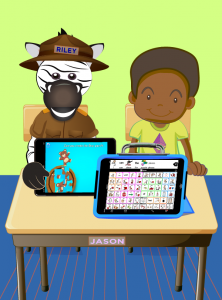 Bluebee Pals are softly huggable, lovable, plush interactive learning tools/toys that connect via Bluetooth to all iOS and Android devices. They wirelessly pair with all apps and activities with a narrative, which provides endless educational opportunities and entertainment for children of all ability levels. Bluebee's mouth and head realistically move while speaking, making reading, educational apps, games, and activities so much fun!  Which Bluebee Pal will you choose? Hudson the dog, Riley the zebra, Leo the lion, Lily the lamb, Sammy the bear, or Parker the monkey
November is a perfect time for children to learn about Thanksgiving, what it means, sharing with others, the importance of family and being grateful for what we have in our lives. Bluebee Pals have a unique charm that makes them excellent learning partners!
YouTube Video – https://www.youtube.com/watch?v=b3MrKGGv5Hk
Fun activities you can pair with Bluebee Pals to learn about Thanksgiving.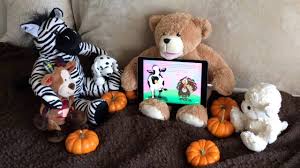 We recommended the below videos and apps to connect your Bluebee Pals. Our soft, huggable tech companions provide your child with a learning companion that encourages communication and learning, all in the comfort of your home. Bluebee Pals connect to any app with a narrative, including the Bluebee Pal Educational App, allowing our users an infinite number of educational tools through Apple and Android Apps and Youtube Videos…Please visit our website to review all our Bluebee Pal Programs and resources for mainstream and special needs children. ..https://bluebeepals.com

Thanksgiving Books/ Videos:
Bear Says Thanks   https://youtu.be/4G2WXWZu3jw
Turkey Trouble     https://youtu.be/TzUS7UHXsd8
How to Catch a Turkey   https://youtu.be/PUTrOUe3We0
A Turkey For Thanksgiving   https://youtu.be/_JYNsWtVIww
Little Critter Being Thankful    https://youtu.be/fOVeX4VcW9E
What Does It Mean To Be Thankful?    https://youtu.be/PcVQGoalfnk
The Turkey Who Forgot How To Gobble   https://youtu.be/PcVQGoalfnk
Thankful Song      https://youtu.be/YeSdQmO51Ps
The Story of Thanksgiving    https://youtu.be/VvzMp5WUjls
The Night Before Thanksgiving    https://youtu.be/i7q-NHs2G-0
A Charlie Brown Thanksgiving  https://apps.apple.com/us/app/a-charlie-brown-thanksgiving/id703585226
The Berenstein Bears Give Thanks    https://apps.apple.com/us/app/the-berenstain-bears-give-thanks/id404118797
Boom Card Interactive Learning Activities
Dress a Turkey:  https://wow.boomlearning.com/deck/dress-a-turkey-lite-LqEArm79uusRaWBu8
Label the Turkey:  https://wow.boomlearning.com/deck/free-label-the-turkey–thanksgiving-activity-Ejip3xFF9CHeQrBmD
I am grateful for…:   https://wow.boomlearning.com/deck/gratitude-i-am-thankful-for-hXpLFv2L6AsPuDB6F
Make a pumpkin pie:  https://wow.boomlearning.com/deck/make-a-pumpkin-pie-HttSKKREm4Nt5n8eE
Thanksgiving Directions:  https://wow.boomlearning.com/deck/untitled-deck-3bnMsaQqvLrBuYMRP
Five Little Turkeys:  https://wow.boomlearning.com/deck/5-little-turkeys-xoRqDoCpz8kfo25s4
Where is the Turkey- Prepositions:  https://wow.boomlearning.com/deck/free-where-is-the-turkey–prepositions–grades-1-2–freebie-NoCqLkxnhitiHer82
Create a Turkey:  https://wow.boomlearning.com/deck/thanksgiving-create-a-turkey-FZQmALHzCMJTdTMDG
Turkey Vocabulary:  https://wow.boomlearning.com/store/bundle/GjsWyrqHMB3S37aDS