Apple Patch Therapy & Learning is a family and therapist-owned private practice in Orlando, Florida. Named "Best Speech Pathologists in Orlando 2017", Apple Patch provides comprehensive speech and language therapy services to adults and children in the home and clinical settings.
I had the pleasure of working with Apple Patch Therapy this Summer thanks to the dedicated and forward-thinking owners Dino and Josann Fernandez. Not only do their therapists provide specialized 1:1 therapy to children and adult, but they are also privy to the Fernandez's tech adventures! Dino and Josann are currently developing an app to facilitate the treatment of various modes of speech and language called SLP Assistant!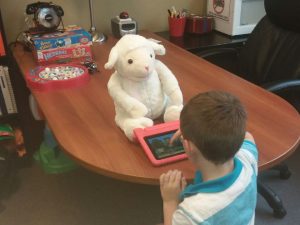 I instantly knew that Apple Patch would be a perfect fit for implementation of Kayle Concepts Bluebee Pals educational tool. Their love for incorporating innovative technology into therapy sessions showed as they dove in head first with the Bluebee Pals. The speech-language pathologist used Bluebee Pals with children in the home and clinical settings during 1:1 therapy and the results were exceptional!
Some of the highlights were:                                                                           
higher engagement for children

increased phrase length when talking to Bluebee

sustained participation in repetitive tasks

motivation from all ages including middle school students

great tool for following directions

success as a communication icebreaker for conversational skills

wonderful signing partner

increased sustained participation and motivation for articulation drilling
The therapists at Apple Patch Therapy were very creative with their use of the educational tool! They used Bluebee Pals as an "alter ego" to comfort their more shy and reserved clients as well as encouraging them to hold the cute and plush toy for an additional sensory component. 
We were thrilled to hear that Bluebee Pals were able to help children reach their communication goals while having fun during therapy sessions! We can't wait to see what else the inspiring Apple Patch team with Bluebee Pals in the near future! http://www.applepatchtherapy.com