Frequently Asked Questions
A QUICK GUIDE TO TROUBLESHOOTING TECHNICAL ISSUES WITH YOUR NEW BLUEBEE
Can Bluebee Pals be purchased in a larger quantity with a Purchase Order?
For any larger quantities that need to be met by a Purchase Order, you can fill out your info Here, and someone will get back to you shortly with your inquiry request. We do offer discounts for Schools/Institutions and Private Educational Service Providers.
Having problems with your connecting Bluebee to Bluetooth?
Sometimes I did have trouble connecting the bluebee pal but just troubleshooted and was able to connect after some tries.
Having issues with Speech Apps and Bluebees Audio Response?
As far as it pronouncing the whole word I would just slow down the rate of speech which seems to solve the problem.
Having issues with ACC Apps and Bluebee?
Bluebee skips the first word sometimes. Place the first word in the sentence twice to remedy this issue. We are looking into a firmware update for this
Pairing Bluebee with your Bluetooth® Device
Keep Bluebee Pals and your device within 3ft of each other when pairing.
Power on – Open the back panel of Bluebee Pals and slide the Power Switch (1) to ON position. Your Bluebee will say "My name is Bluebee. Please pair and connect me using the Bluetooth® located on your device".
Go to "Settings" on your device, turn on the Bluetooth® function, and search for "Bluebee Pals".
If pairing is successful, your Bluebee will say "Connection succeeded".
If Bluebee cannot find a device in two minutes, it will say "No one is here, please try again". Please check your device to make sure it is not connecting to other Bluetooth® equipment.
NOTE: Bluebee Pals can only connect with one Bluetooth® device at a time.
Bluebee will go to sleep mode if there is no signal for five minutes. Just turn the power OFF and ON, and repeat the connection process.
Bluebee remembers the last connected device and will reconnect automatically.
Function Buttons
1 |  Voice Activated Power Switch – ON/OFF Switch
2 |  Charging Indicator – Red = Charging / Blue = Fully Charged
3 |  Micro USB Charging Jack
4 |  Left Ear – Press Call Answer/End Call Button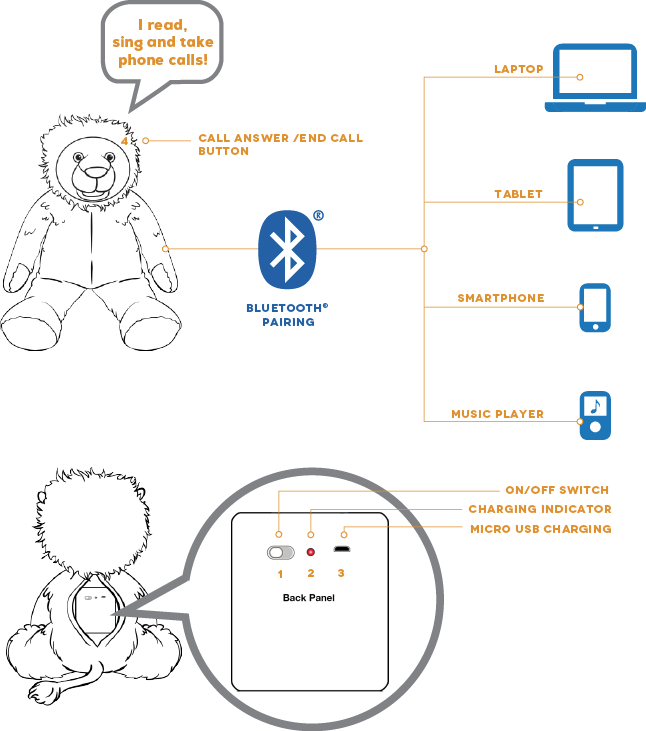 Recharge your Bluebee Pals Pro
Bluebee Pals Pro will remind you to recharge it when the battery is low. It will say "Please charge my battery".
Plug the USB cable (supplied) to the Micro USB Charging Jack (3) and connect to your PC for charging. You may also use a USB wall adapter (not included) to charge directly from any household wall outlet.
Charging Indicator (2) is red while Bluebee Pals are charging. The Charging Indicator (2) will turn blue when the battery is fully charged, and gives hours of operation.
Phone Call Functions using your Bluebee Pals Pro
Use your Bluebee Pals Pro as a wireless speaker phone. Talk to your child or friends through the Bluebee Pals Pro by placing a call to a cell phone paired with them. When there is an incoming call, your ringtone will sound from Bluebee Pals Pro (this function may vary in different brands of cell phones).
Press the Call Button (4) to answer a call.
To end a call, simply press the Answer/End Call Button (4).
You can make a phone call using your mobile as you normally would, while the Bluebee Pals is paired to your mobile.
You can redial the last number by double pressing the Answer/End Call Button (4).
You can adjust the volume from the cell phone that is paired with your Bluebee Pals.