Welcome To Helen's Corner
App Reviews by Helen Wagner, She is a public school SLP helping preschoolers
Bluebee Pal Teacher Ambassador Helen Wagner
I often use our classroom Bluebee Pals during therapy to work on reading, talking and playing skills! My students really relate to their Bluebee therapy friends, and look forward to learning with them!
Teaching and learning begin at home. Parents are the first and most important teachers in the early, developmental years. Young children learn essential, foundational speech, receptive and expressive language, social, pre-reading, cognitive, numeracy and communication skills necessary for future academic success through meaningful play and lots of language rich learning opportunities.
Read, Read, Read!
Read to your child daily. Reading helps develop vocabulary, attending, sentence construction, grammar, pronoun usage, social-skills, turn-taking, imagination, creativity, sequential thought, emotions, wh-questions, comprehension, receptive/expressive language skills, critical thinking and problem solving, and so much more! Reading daily to young children is one of the most language rich and meaningful learning opportunities that parents can give their children. Parents provide many natural educational interactions while reading, talking about the subject matter and elements of the story, questioning about the story, and practicing story retelling.
Talk, Talk, Talk!
Parents need to talk to their children! Talking and commenting on the world around them is a great, natural way to teach children. Examples: In the grocery store: "How many yellow fruits do you see? How many green vegetables? Let's buy three red apples". In the car: "Let's see how many blue cars we can count" or "How many things can people ride in to go somewhere"? "Let's look for things that are orange". "Can you find a stop sign? What colors are in a traffic light"? At home during interactive play: "Oh, wow, I see that you are racing your red car and your blue car. Which one do you think will go faster"? Simple commenting and talking about what you and your child are doing and seeing and asking questions is a powerful educational tool. Commenting on the world around them will build and reinforce basic concepts, numeracy, turn-taking, pragmatic skills, receptive and expressive language, critical thinking and reasoning skills, problem solving, grammar, and more.
Play, Play, Play!
Play with your children! Lots and lots of learning takes place during play! Play dolls, play trucks, play games, play marbles, play pretend! Provide opportunities for you preschoolers to interact with peers! Beginning games such as Candy Land, Spot It, Pop the Pig, I Spy, Zingo and more are great for practicing social skills, turn-taking, sharing, numbers, colors, matching and categorization skills. Playing and learning through songs and finger-plays such as "Itty Bitty Spider, 5 Little Ducks, etc, is a great way to teach rhyming, sequencing, memory and basic concept skills. Learning through play provides powerful opportunities for cognitive growth.
Bluebee Pals Jan 2018
Wow! A fresh, new year is here! I have some exciting new apps to share with you, straight from my Whether you are new to the wonderful world of Bluebee Pals, or a seasoned user, these apps are sure to delight!
Speech Tutor Educational by Synapse Apps, LLC: http://itunes.apple.com/us/app/speech-tutor-educational/id1323272450?mt=8
Billed as an "All-In-One Speech Toolbox", this app really rocks!   Speech Tutor Educational is a complete, seamless combination of essential teaching tools for articulation therapy. It features two easy to use speech screeners: one for parents and one for therapists, 52 sound production/placement teaching videos along with sound production tips, and nearly 5,000 different articulation stimulus practice cards across 33 sound/phoneme decks, and 36 minimal pair decks.
     The app can be set to use with individual students or with a group, and provides instantly available detailed data tracking. Students are provided practice with sounds in the initial, medial, final, or mixed positions in your choice of words, phrases or sentences.  Students' productions may be video recorded and stored for progress monitoring.
     I really like that the screeners provide realistic, developmental norms for speech sound acquisition ages, which helps in counseling parents and in therapist planning. The app also features 2 types of screens, normal screen and kid friendly (cleaner page layout).   The photographic stimulus cards are beautifully rendered!  
     This is a great app to use along with your Bluebee Pals, in that they can "help" your child practice the speech targets by saying the words and sentences before your child practices, which provides for added auditory bombardment!   And even after a child practices and uses the recording feature, he/she can hear their productions via their Bluebee Pal! This just adds to the learner fun and engagement!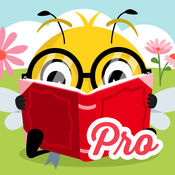 Little Stories Pro by Little Bee Speech: https://itunes.apple.com/us/app/little-stories-pro/id1228283813?mt=8
Little Stories Pro for Speech, Language and Literacy is a set of 82 beautifully crafted and illustrated, 100 word stories developed to support receptive and expressive language, reading fluency, and phonemic awareness/sound production skills through the use of sound-saturated stories. Chock full of curriculum support, this app is filled to the brim with learning and literacy content through targeted story practice.
     The app is so easy to use! Select a story, sorted by story title, theme, reading level, or phonemic target. Sounds emphasized in the stories are r, r blends, l, l blends, s, s blends, and th.   There are three reading levels from ages 6.5 to 9.5. Before you read, you will be given a story synopsis, sight words, phonemic target words, and challenge words. As an option, you can choose to practice flash cards before you begin reading. The story can be read aloud to the child, or the child can read independently. A Reading Helper is available to select navigation buttons, provide for eye-tracking, choose an early reader format, and to select which words you would like in bold print. A feature is available if you want to measure reading fluency in words per minute.  An assessment feature also allows you to mark a child's reading, vocabulary and speech errors and turn them into practice flash cards for extra practice. Coloring pages from the stories and tongue twisters during the story just add to student engagement!
     Following completion of the story, there are story comprehension activities, which include story retell, story sequencing, WH questions, and story talk conversational questions.
     This app is best used side by side with your child.   Bluebee Pals can easily be used with Little Stories Pro, either to read the pre-recorded story with your child, or to re-read the story in your child's own voice! This is a great app to check out on the app store!
YUMI |Story Dice:https://itunes.apple.com/th/app/yumi-story-dice/id1225064701?mt=8
Story Dice is a fun app to encourage children to create their own, original, fun stories! By shaking their iPhone or iPad, children roll magical 3-D story dice! Then, they tap on each one to unlock the surprise
3-D toy inside!   These toys can be dragged, enlarged, rotated and stacked in any order. You choose the order and a colorful setting, and then create your own story using the objects you have been randomly given.   These stories can then be recorded and shared with family and friends! This is free-play at it's best!   Your child can be the "…author, director, and star of their own original stories, plays, and videos"!
This app is great for building expressive and receptive language skills, storytelling, sequencing, and thinking skills! And, best of all, it is fun to use along with a favorite Bluebee Pal, who can tell your story back to you!
Get your 1st, 2nd or even 3rd Bluebee Pal Today!!