Welcome To Helen's Corner
App Reviews by Helen Wagner, She is a public school SLP helping preschoolers
Bluebee Pal Teacher Ambassador Helen Wagner
I often use our classroom Bluebee Pals during therapy to work on reading, talking and playing skills! My students really relate to their Bluebee therapy friends, and look forward to learning with them!
Teaching and learning begin at home. Parents are the first and most important teachers in the early, developmental years. Young children learn essential, foundational speech, receptive and expressive language, social, pre-reading, cognitive, numeracy and communication skills necessary for future academic success through meaningful play and lots of language rich learning opportunities.
Read, Read, Read!
Read to your child daily. Reading helps develop vocabulary, attending, sentence construction, grammar, pronoun usage, social-skills, turn-taking, imagination, creativity, sequential thought, emotions, wh-questions, comprehension, receptive/expressive language skills, critical thinking and problem solving, and so much more! Reading daily to young children is one of the most language rich and meaningful learning opportunities that parents can give their children. Parents provide many natural educational interactions while reading, talking about the subject matter and elements of the story, questioning about the story, and practicing story retelling.
Talk, Talk, Talk!
Parents need to talk to their children! Talking and commenting on the world around them is a great, natural way to teach children. Examples: In the grocery store: "How many yellow fruits do you see? How many green vegetables? Let's buy three red apples". In the car: "Let's see how many blue cars we can count" or "How many things can people ride in to go somewhere"? "Let's look for things that are orange". "Can you find a stop sign? What colors are in a traffic light"? At home during interactive play: "Oh, wow, I see that you are racing your red car and your blue car. Which one do you think will go faster"? Simple commenting and talking about what you and your child are doing and seeing and asking questions is a powerful educational tool. Commenting on the world around them will build and reinforce basic concepts, numeracy, turn-taking, pragmatic skills, receptive and expressive language, critical thinking and reasoning skills, problem solving, grammar, and more.
Play, Play, Play!
Play with your children! Lots and lots of learning takes place during play! Play dolls, play trucks, play games, play marbles, play pretend! Provide opportunities for you preschoolers to interact with peers! Beginning games such as Candy Land, Spot It, Pop the Pig, I Spy, Zingo and more are great for practicing social skills, turn-taking, sharing, numbers, colors, matching and categorization skills. Playing and learning through songs and finger-plays such as "Itty Bitty Spider, 5 Little Ducks, etc, is a great way to teach rhyming, sequencing, memory and basic concept skills. Learning through play provides powerful opportunities for cognitive growth.
Apps from Mrs. Wagner's classroom November 2017
It's November! Turkey time! Time for family get-togethers, traditions, history lessons, and remembering to be thankful! Here are some of our favorite Thanksgiving-themed apps. We love to pair them up with our favorite Bluebee Pals for maximum learning fun.  Enjoy!
Turkey Forgot How To Gobble by Alexis H. Purcell
https://itunes.apple.com/us/app/turkey-forgot-how-to-gobble/id567766441?mt=8
Oh no! Joey the turkey has forgotten how to gobble! His barnyard friends rooster, cat, dog, Minnie Moo and Gillie the turkey all join in to help him find his gobble! This is a cute interactive story about friendship, helping one another and perseverance. Great for learning and imitating animal sounds, same/different, wh-questions, and critical thinking skills. When you press an animal, it makes its own sound! Do you know the sounds each animal makes? Turn the pages on your own, so that you can talk about the story while you read. My preschoolers love this book app!
Just So Thankful – Little Critter by Oceanhouse Media
https://itunes.apple.com/us/app/just-so-thankful-little-critter/id986572769?mt=8
Little Critter learns about being thankful for what he has! There's a new kid in town who seems to have everything, including the Super Streak scooter that Little Critter wants! But Little Critter soon discovers that he has something that money can't buy…his loving family! This sweet story is great for teaching the value of family over possessions and has lots of vocabulary words to learn, too! One of our favorite features is the ability to record the story in your or your child's own voice! Be sure to search for and find the hidden creatures in the book…can you find them all? Works beautifully with your Bluebee Pals!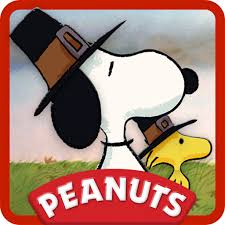 A Charlie Brown Thanksgiving – A Peanuts Interactive Classic for All Ages by Loud Crow Interactive Inc.
https://itunes.apple.com/us/app/charlie-brown-thanksgiving-peanuts-interactive-classic/id703585226?mt=8
What would Thanksgiving be without this classic? Join Charlie Brown and all of the Peanuts gang as they get together for a feast! Kick a football with Charlie Brown (can he trust Lucy?), help Snoopy prepare the eats, set the table, and discover the meaning of Thanksgiving! Great fun for reading and discussion.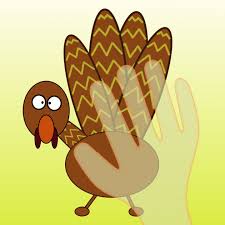 Hand Turkey Thanksgiving by Jay Ayres
https://itunes.apple.com/us/app/hand-turkey-thanksgiving/id548970720?mt=8
This is a very simple but enjoyable little app for the younger ones. Press your hand on the screen to make your own turkey, then name it and decorate it! Great for cause and effect and following simple directions. You can draw and rake fall leaves and create your own turkey stampede!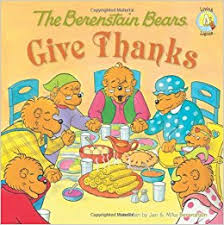 The Berenstain Bears Give Thanks by Oceanhouse Media
https://itunes.apple.com/us/app/the-berenstain-bears-give-thanks/id404118797?mt=8
The little bear family celebrates and acts out the story of the original Thanksgiving. Sister bear discovers something she is really thankful for. As always with this series, there is a moral to the story! Excellent to use for sequencing. Readers can read the book or record it in their own voice. A very sweet tale!
**I can not use this book in my public school due to its decidedly Christian perspective; however, I do love it and enjoy sharing it with friends and family!!!
Get your 1st, 2nd or even 3rd Bluebee Pal Today!!