Bluebee Pals Jan 2018
Wow! A fresh, new year is here! I have some exciting new apps to share with you, straight from my Whether you are new to the wonderful world of Bluebee Pals, or a seasoned user, these apps are sure to delight!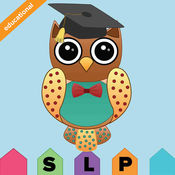 Speech Tutor Educational by Synapse Apps, LLC: http://itunes.apple.com/us/app/speech-tutor-educational/id1323272450?mt=8
Billed as an "All-In-One Speech Toolbox", this app really rocks!   Speech Tutor Educational is a complete, seamless combination of essential teaching tools for articulation therapy. It features two easy to use speech screeners: one for parents and one for therapists, 52 sound production/placement teaching videos along with sound production tips, and nearly 5,000 different articulation stimulus practice cards across 33 sound/phoneme decks, and 36 minimal pair decks.
     The app can be set to use with individual students or with a group, and provides instantly available detailed data tracking. Students are provided practice with sounds in the initial, medial, final, or mixed positions in your choice of words, phrases or sentences.  Students' productions may be video recorded and stored for progress monitoring.
     I really like that the screeners provide realistic, developmental norms for speech sound acquisition ages, which helps in counseling parents and in therapist planning. The app also features 2 types of screens, normal screen and kid friendly (cleaner page layout).   The photographic stimulus cards are beautifully rendered!  
     This is a great app to use along with your Bluebee Pals, in that they can "help" your child practice the speech targets by saying the words and sentences before your child practices, which provides for added auditory bombardment!   And even after a child practices and uses the recording feature, he/she can hear their productions via their Bluebee Pal! This just adds to the learner fun and engagement!     
Little Stories Pro by Little Bee Speech: https://itunes.apple.com/us/app/little-stories-pro/id1228283813?mt=8
Little Stories Pro for Speech, Language and Literacy is a set of 82 beautifully crafted and illustrated, 100 word stories developed to support receptive and expressive language, reading fluency, and phonemic awareness/sound production skills through the use of sound-saturated stories. Chock full of curriculum support, this app is filled to the brim with learning and literacy content through targeted story practice.
     The app is so easy to use! Select a story, sorted by story title, theme, reading level, or phonemic target. Sounds emphasized in the stories are r, r blends, l, l blends, s, s blends, and th.   There are three reading levels from ages 6.5 to 9.5. Before you read, you will be given a story synopsis, sight words, phonemic target words, and challenge words. As an option, you can choose to practice flash cards before you begin reading. The story can be read aloud to the child, or the child can read independently. A Reading Helper is available to select navigation buttons, provide for eye-tracking, choose an early reader format, and to select which words you would like in bold print. A feature is available if you want to measure reading fluency in words per minute.  An assessment feature also allows you to mark a child's reading, vocabulary and speech errors and turn them into practice flash cards for extra practice. Coloring pages from the stories and tongue twisters during the story just add to student engagement!
     Following completion of the story, there are story comprehension activities, which include story retell, story sequencing, WH questions, and story talk conversational questions.
     This app is best used side by side with your child.   Bluebee Pals can easily be used with Little Stories Pro, either to read the pre-recorded story with your child, or to re-read the story in your child's own voice! This is a great app to check out on the app store!
The Speech and Language Store: (Splingo Speech and Language Apps)

The Speech and Language Store was formed by two experienced Speech and Language Pathologists/Therapists. We work together with the talented folks at Edugame to develop apps that are inspired by the children we work with. Between us, we have over 27 years of experience working as SLP/SLTs with children who have a wide range of communication needs. We specialise in complex special needs and work on a daily basis with pre-school and school-aged children as part of multi-agency teams within hospital clinics and school settings.