Playonwords LLC Announces Top 10 PAL (Play Advances Language) Award Picks 2017, Holiday Gift Guide: Top Toys, Games, Books and Media That Spark Fun and Encourage Language
Respected speech-language expert Sherry Artemenko announces her Top 10 PAL product lists by category representing the only industry recognition promoting language development through great play. Parents and educators alike value Sherry's nearly four decades of experience and benefit daily from her popular blog, playonwords.com, private practice, media appearances, and articles.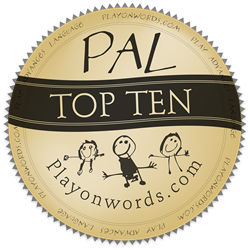 ELKHART LAKE, WIS. (PRWEB) OCTOBER 27, 2017
Regular interaction with children guides Playonwords founder, Sherry Artemenko, to a unique set of the best toys, games, books, and media that have the chemistry to develop language while delivering great play. Today, Playonwords is announcing it's annual "Top 10 PAL Picks of 2017" by age and product category. Our Top 10's take the guesswork out of giving great holiday gifts. Parents and grandparents use our lists to shop for smart toys with lasting play value.
Winners are assessed and reviewed by Sherry with input from parents, kids, and educators. Observing play in action, combined with her critical eye for language potential, Sherry awards products and writes insightful reviews offering practical tips on how to maximize the educational value of each winner on playonwords.com.
Language catalyzing PAL winning toys and games are powerful additions to a child's learning toolbox since children learn through play, and language is integral to learning! Our 2017 Top 10's include a number of great winners that inspire physical building to match rigor in story planning, creation, revision, and presentation. Whether constructing the "K'NEX Education STEM Explorations Roller Coaster" or programming Spin Master's "Meccano Micronoid," kids are positioned to strengthen cognitive foundations for reading, writing, and overall literacy. Also enhanced are skill sets related to vocabulary, memory, association, deductive reasoning, prediction, dialogue, narration and emotional IQ, through games that encourage language like LeapFrog's "LeapStart," EQtainment's "Q Wunder App" or Seedlings "Parker, Augmented Reality Bear."
Sherry's expertise has been tapped by NBC Connecticut TV, FOX TV News 6 Milwaukee, Parents Magazine, The Chicago Tribune, San Francisco Chronicle, parents.com, parenting.com, mom.me, ASHAsphere (official blog of the American Speech-Language Hearing Association), and ASHA LEADER magazine.
For Sherry, great play is not just about fun, or language development, it's about going deep on both. Her expertise has been built on science and more than 17,000 hours of client experience. Each set of Top 10's represents a breadth of themes and genres, but they all have one thing in common – they are trusted lists of fun products that boost learning through play.
Here are 2017's Top 10 PAL Picks – See Each of Their Reviews at http://www.playonwords.com
Top 10 Toys: Infant
Baby Beats Monkey Drum by VTech        

Janod Baby Forest Train        

Janod Stacking Pyramid-City Friends        

Janod Zigolos Forest Stacker        

Janod Zigolos Pull Along Rabbits        

Kaloo Kaloodoo        

Kaloo Plume Rabbit Doudou Raspberry        

Lil' Critters Huggable Hippo Teether by VTech        

Pull & Discover Activity Elephant by VTech        

Sleepy Glow Bear by VTech        
Top 10 Toys: Toddler
Bigjigs Toys' Kelly Doll

Brio: Light and Sound Fire Truck

Farmers Market Playtime by Seedling

Grippies Stackers by Guidecraft

Janod Mini Story Safari

Magicube Polar Animals by Geomagworld

Pop-a-Balls Push & Pop Bulldozer by VTech

SmartMax My First Safari Animals by Smart Toys and Games

Step & Learn Scout by LeapFrog

Under the Sea Puppet Playtime by Seedling
Top 10 Toys: Preschool
Alex Discover Ready Set Money        

Dog Stage Puppet by Folkmanis        

Doll Family Mansion by Hape        

Go! Go! Smart Friends Shimmering Seashell Castle by VTech        

Luvabella by Spin Master        

Magicube Polar Animals by Geomagworld        

PAW Patrol My Size Lookout Tower by Spin Master        

Scoop and Learn Ice Cream Cart by LeapFrog        

Tree House by Plan Toys        

Zoo Jamz Stompin' Fun Drums by VTech        
Top 10 Games: Preschool
Alex Discover Play All Day         

Alex Toys Future Coders Bunny Trails        

Alex World Map in the Tub        

Disney Jr. Mickey and the Roadster Racers Bump 'N Race Action Game by Wonder Forge        

E-I-E-I-GO! by Mindware        

Janod Penguin Skittles Game        

Monkey Around by Peaceable Kingdom        

Soggy Doggy By Spin Master        

The Rainbow Fish Share and Sparkle Game by Mindware        

Where's Bear? by Peaceable Kingdom        
Top 10 Toys: School Age
Dig it Up! Discovery Kit by Mindware

Gym1 Deluxe Indoor Playground

Hen Puppet by Folkmanis

Interchangeable Farm Stand, Furniture For 18″ Girl Dolls by The Queen's Treasures

K'Nex Education STEM Explorations Roller Coaster Building Set

Lilabell by Living Puppets

Meccano Micronoid by Spin Master

Pet Place by Wonderhood

UNBORED: Time Capsule by Mindware

World's Greatest Magic Show by Thames & Kosmos
Top 10 Games: School Age
Eye 'N Seek by Blue Orange Games        

Gumball Words by SimplyFun        

Ideal 4 Way Spelldown        

Krazy Wordz by Ravensburger        

LeapStart by LeapFrog        

Tall Tales by SCS Direct        

Telestrations 8 Player: The Original by USAopoly        

Top Trumps by Top Trumps USA Inc.        

UNBORED: Carnival by Mindware        

WordSpiel by Set Enterprises, Inc.        
Top 10 Books and Media
2-in-1 LeapTop Touch by LeapFrog        

Ada Twist, Scientist by Andrea Beaty and David Roberts        

Bluebee Pal Parker by Kayle Concepts         

Double Take! A New Look at Opposites by Susan Hood        

I'm Going to Give You a Bear Hug! by Caroline B. Cooney        

LeapFrog Academy by LeapFrog        

Parker, Your Augmented Reality Bear by Seedling        

Tad's Get Ready For School Book by LeapFrog        

Q Wunder TV Show by EQtainment        

Q Wunder App by EQtainment        
Each holiday season, millions are spent on kids' toys, games, and books. These PAL winners above are not only great fun but also encourage rich language development. Think "tastes like ice cream, fortifies like spinach," optimizing your toy purchases to build language while maintaining all the fun. Now's the time to be intentional about your child's toy chest, game drawer, bookshelf, and tablet!
Playonwords.com was founded by the well-respected speech-language pathologist, Sherry Artemenko. Her 35 years championing language rich play, esteemed PAL Award, a popular blog, and insightful tips to parents set her apart as the leading advocate for the language component in toys.
Over 17,000 hours working directly with children has shown her that a unique set of the best toys, games, and books have the capability to develop language while delivering great play. Studies show:
Kids with highest IQs at three had the most words at one and two

Language learning is cumulative – early words => early sentences => language & reading

Most kids maintain their verbal advantage through childhood

Creative pretend play that sparks story-telling can advance future literacy
Sherry established the PAL Award to identify unique toys, games, and books that through their design, quality and character, encourage play that advances language. PAL winners in the hands of kids, spark fun and creative play with lots of talk. Such toys, recognized on the basis of her child development expertise, are complemented by practical coaching in her blog, showing parents and caregivers how to get the most from toys, games, and books to build language and underlying cognitive skills.