Princeton House Charter School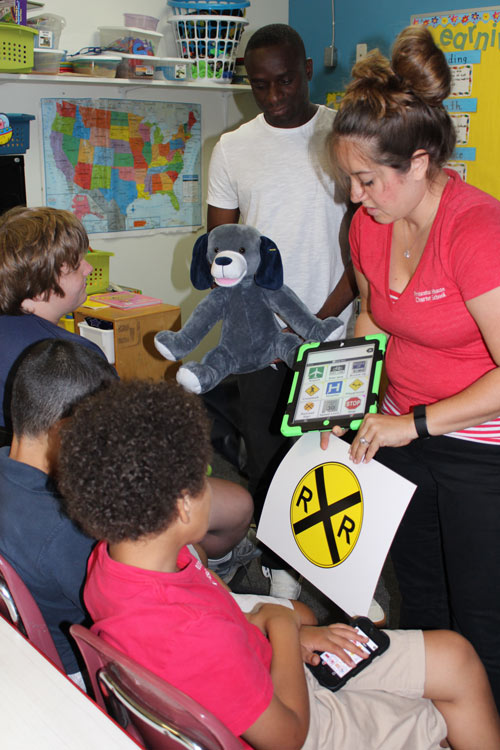 Princeton House Charter School is a public non-profit charter school in Orlando, Florida devoted to serving children with Autism in PreK-5th grade. They provide cutting-edge education and therapeutic intervention for all their students via a multi-disciplinary team approach and active parent involvement.
Representatives from the school attended an assistive technology conference where they met Bluebee Pals for the very first time. Their director, Kim Gelalia, was immediately intrigued by the Bluebee Pals and insisted on purchasing some for her school. Princeton House Charter School has since become a part of the Bluebee Pals project and recipient of over 14 donated Bluebee Pals!
Laura Jiencke, president of Kayle Concepts, accepted an invitation from Princeton Houses' speech-language pathologist, Punam Desormes, to visit and observe teachers/therapists in their classrooms integrating Bluebee Pals in their lesson plans.
"It was an inspirational day watching children engaging with Bluebee Pals while connected to a range of music, voice recordings and AAC apps. iPads are a leading tool for teachers applying assistive technology in their classrooms. Bluebee Pals enhance the educational value by creating a tangible manipulative in a learning setting where children are encouraged to interact." – Laura Jiencke, CEO of Kayle Concepts and founder of The Bluebee Pals
So impressed with their quick integration of Bluebee Pals into education and treatment of their students with Autism, Ms. Jiencke, returned two weeks later to participate in a training and brainstorming session with 15+ Princeton House ESE teachers and therapists. Teachers and therapists at Princeton House Charter School will evaluate the Bluebee Pal Pro in their classrooms and plan to document and measure the results in the coming school year.
"This is a very special school dedicated to children with Autism who's teachers are determined to apply creative forms of technology in their classrooms. Teachers and therapists collaborate on the various applications to integrate Bluebee Pals. We are thrilled to have the participation of these dedicated professionals and anticipate the results of their work." – Laura Jiencke, CEO of Kayle Concepts and founder of The Bluebee Pals
Testimonials from Educators
"I have several students in my class that use an AAC device to speak. When introducing the BlueBee, I explained that he also needed a device to speak, just like many of us. The kids started to explore different ways to interact with our BlueBee dog, having him read stories, talk with them one on one and even singing Adele! We could not be more excited to have BlueBee as a apart of our classroom. As a teacher of students with ASD, I am excited to discover new ways to incorporate this wonderful resource to help with all aspects of academics and building confidence with social skills."


 – Jessica Carter 
- ESE Classroom Teacher 3rd-5th Grade
 Princeton House Charter School

"I was amazed the first time I used Bluebee to read a story. Every student immediately focused on BlueBee and the book immediately … something we have been working on all year! Instead of my students seeing reading activities as non-preferred "work", BlueBee makes it a more positive and play-like experience."
Laura Wiliams
 – ESE Classroom Teacher 2nd-3rd Grade
Princeton House Charter School
"Bluebee Pals have been an instant hit during speech-language therapy sessions! I have used Bluebee Pals with our students with Autism across all range of abilities. Bluebee Pals have helped us learn grammar concepts, work on our articulation skills, have conversations with appropriate pragmatic language skills, and even helped us use our AAC devices! Bluebee Pals are like rewards and learning tools in one cuddly package!"


Punam Desormes – M.A., CCC-SLP 
Speech-Language Therapist 
Princeton House Charter School