Bluebee Pals made an impromptu visit to Princeton House Charter School in Orlando, Florida. Princeton House Charter School is a Pre-K through 5th grade charter school serving students with Autism Spectrum Disorders and a member of the Bluebee Pals Project. As a Bluebee Pals project site, Princeton House has been a recipient of these interactive plush educational tools with exceptional positive outcomes. During this visit, the students were thrilled to meet Bluebee 4.0, whose upgrades include moving head, increased upright sitting ability, and the Bluebee Pals App. With little demonstration, the students began exploring the Bluebee Pals app including its multiple rooms in which their favorite Pal could do things just like them! Students manipulated items in Bluebee's living room, bedroom, bathroom, and kitchen while learning vocabulary and following directions.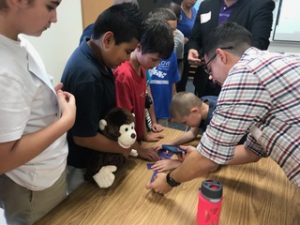 Making Bluebee talk with text to speech apps (Text to Speech!, Robot Talk) continued to be a hit with Bluebee 4.0 saying anything and everything they could imagine! Bluebee was also caught in action during small group reading tasks with Early Literacy Skills Builder (ELSB https://www.attainmentcompany.com/elsb) curriculum in which they were paired with the ELSB app. The teacher shared how her students with significant cognitive disabilities increased their attention to the activity when Bluebee was paired with the curriculum. The speech therapy department at Princeton House received a personal tutorial of the Bluebee Pals app and immediately began brainstorming what speech-language goals could be worked. A therapist or educator's first question to that would be, well what did they come up with? See below "sharing is caring": 
Speech-Language Therapy Goals with Bluebee Pals App
Requesting With Words/Phrases

Identifying and Labeling Functional Vocabulary

Following 1-2 Step Directions

Understanding Verbs in Context

Functional Play Skills

Retelling Events

Sequencing Skills/Steps
Thank you Princeton House Charter School for being a Bluebee Pals Project site! 
Trying out the new app and Bluebee 4.0? Let us know what you skills you or your student are working on by commenting or messaging us on Facebook @BluebeePalsInc: